Pantone & Colour Analysis
May 4, 2013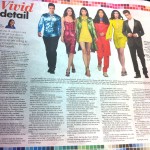 Each year Pantone publishes a fashion color report for the seasons. In the following months, we see these forecasted colors in stores translated into clothes and accessories with a common color theme. For the fashionista, the question is "which of the season's fashion colors do I suit?"  In fact, you can wear any of them so long as you choose a version of the color that is harmonious with your coloring. Color analysis discerns which color characteristics flatter you.
Read about Pantone and color analysis in The Straits Times, Urban newspaper article Vivid Detail by Leslie Kay Lim (3 May 2013). In it, color and image consultant Denise Ng gives advice on how to wear color to create a professional image.
Keep in mind there were slight misquotes in the article about wearing a lighter hue to create a more accommodating or friendly image, offsetting a darker jacket with yellow or orange.  Lighter, accommodating hues are pale yellow or peach. Yellow and orange look friendly but their strength of color would come across as creative and highly extroverted and would not be suitable in conservative offices or in serious, formal business situations.
Comments