Climbing the Corporate Ladder in High Heels
May 22, 2009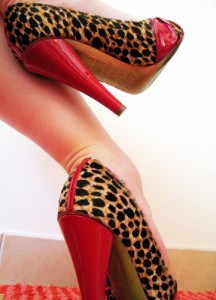 Women's corporate style has come a long way since the days of the feminized male suit. The ubiquitous skirt suit with strongly-defined shoulders, suggestive of estrogen with a good dose of testosterone, is passé. Women have developed their own corporate clothing identity and the options nowadays are interesting and diverse.
Contemporary work-wear is defined by function. Is your job front-line or back office? Academic, technical or practical? Traditional or creative ? Do you deal globally? There is a range of business-appropriate attire, categorized simply by formality.
Traditional professions demanding a high level of client trust, such as banking and law require more formal dress codes.  Classic suits, shirts and closed mid-height shoes convey reliability, conservativeness and seriousness.
Medicine, teaching and engineering need clothes that say: "professional and capable but practical".   A conservative long-sleeved shirt worn with smart trousers or a mid-length skirt (not for some engineers), low to mid-height covered shoes and a smart casual jacket (if the climate allows) are conventional but not necessarily boring. For medical specialists, particularly those performing operations, formal business wear inspires patients' confidence.
Sales and marketing needs clothes that spell customer-oriented and trustworthy.  The level of formality should be in sync with the clientele.
Jobs that require flair such as design, architecture, fashion, advertising, branding and product development need garb that reinforce an image of creativity – these are likely to be smart casual, fashion-forward and individualized.
Practical trades that provide products and services like gardening, catering and building need sensible casual (not sloppy) work wear that says "I'm ready and able to do the job".
The shift towards more casual business dressing over the past decade has made trousers a fixture of women's work wear. Even strict company dress codes will generally allow trousers these days.  However, a skirt suit is still perceived to be more formal than a trouser suit. Don't forget, more substantial heels work well with with wider-legged trousers, slim heels are better with slim pants and skirts.
So what of high heels? Well, the sensible medium-heeled court shoes of the 1970′s to early 90′s are still around but business casual work-wear has opened up the options to all types of footwear.  Just ensure shoes are job and dress code appropriate. Match them to the style and formality of your dress.  And don't let sexuality be your defining quality!  Other than that, why not climb the corporate ladder in high heels?
The writer, Denise Ng, is a certified image consultant in Singapore. Her consultancy Imago Image specializes in personal image, offering advice on style, the art of dressing, wardrobe, color, grooming, etiquette and protocol and communication skills.
Comments