Dressing Spring Style
April 27, 2009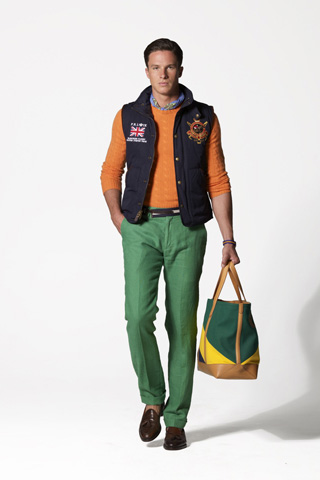 Don't we all love spring? Short, gloomy days are finally coming to an end and the sun is out! Although it's still chilly in the mornings and evenings, bright spring flowers lift the spirits and herald summer.
Shake off the winter blues; don light-hearted clothes and accessories. Spring sees the return of colour and cheerful prints.
Spring dressing is about layering: put on a layer or take it off as the temperature varies in a day. And always take a light jacket or warm jumper out with you in case the temperature drops.
Key Wardrobe Concepts
Cheerful colours and prints on warm fabrics
Gradual shift from dark neutrals to light neutrals like beige and white as the weather warms.
Light to mid-value colours
Vibrant, clear colours like those of the spring flowers are typical of the season's palette.
Solid blocks of bright colour or floral, watercolour and circular prints
Less texture
Light to medium-weight fabrics (in lightweight wool, wool/polyester, wool/silk, wool/cashmere, cashmere, cashmere/silk)
Medium-weight outer wear (in cotton, polyester, polyester/viscose, viscose/rayon/polyamide)
Light, thermal/cotton tank-top or camisole inner-wear for evenings and cooler days.
Jewellery with coloured stones
Bags in light neutrals (tan, medium-light brown, beige, light grey, dark cream) or in cheerful colours and motifs – in canvas, leather, pleather or other man-made materials
Lighter-soled, neutral (tan, brown, beige, dove-grey, dark cream) or coloured shoes.
Men: loafers, Italian-style thin leather soled shoes, boat shoes, mesh sports shoes/sports sandals
Women: peep-toes, sling-backs, ballerina pumps, open-back pumps + female versions of what the men wear.
Revel in Spring's lively colors, prints and fresh styles. Feel your mood get upbeat as you look forward to the new beginnings and new possibilities of Spring. Enjoy!
Learn more » read Dress Cool for Summer

The writer, Denise Ng, is a certified image consultant in Singapore. Her consultancy Imago Image specializes in personal image, offering advice on image projection, style, the art of dressing, wardrobe, color, grooming, etiquette, deportment and communication skills.
Comments