Dress Cool for Summer
August 13, 2008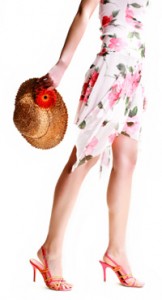 It's best to be minimalist when dressing to beat the heat: light, pure and fuss free. Summer dressing is all about abbreviated styles, fresh colors and breezy fabrics, keeping you both looking and feeling cool. Create your own fashion look or follow the trends but stay cool with these evergreen summer wardrobe principles…
Opt for light to medium colors. Lighter colors reflect the sun's rays, rather than absorb them and keep heat at bay.
Wear soft pastels evoking tranquil hazy summer scenes, or brightly tropical vibrant hues appropriate for the season.
Reflect the casual mood and look of summer with clothes and accessories printed with flowers

, leaves, polka dots, colorful stripes and geometrics, gingham, small checks, cheerful vistas or ethnic motifs.

Keep cool with light-weight and sheer fabrics like challis, chambray, poplin, tulle

, georgette

and chiffon – in cotton, linen, silk or man-made fibers.
Stay comfortable in natural fibers like cotton, linen and silk and viscose. These materials are not only cooler but also healthier to wear than man-made fabrics like polyester, rayon, polyamide and nylon because they "breathe". They naturally absorb moisture and dissipate it, keeping you cooler and dryer as your body temperature rises.

100% natural fiber feels coolest: the more man-made fiber in the fabric, the less comfortable it is to wear in the heat and humidity of summer. Generally, man-made fibers do not wick away wetness nor release heat as efficiently so they can feel uncomfortably damp and stifling when you are active.

They often give off a sour smell as sweat dries on them and have a tendency to retain odor.

They do, however, dry fast which makes high-tech materials good for sports wear.

Open shoes offer the comfort of cooler tootsies. If your job or the occasion require closed shoes, leather lining and leather inner soles help to reduce the problem of sweaty, smelly feet. Leather shoes "breathe" and ease when your feet swell.

Shorter and briefer garments are breezier, giving you more exposed

skin

surface to dissipate sweat and body heat but take a lesson from those from equatorial countries – employ a natural sunblock – cover up lightly when outdoors to protect yourself from the burning rays. Try

:

a wide brimmed hat,

loose sleeves,

thin pants, a long flowy skirt,

a UV sun-shade umbrella

o

r a feather-weight cotton shawl… It really does keep you cooler, not to mention sun-burn free.
Have fun in the sun!
Learn more  » read The Yin and Yang of Style
The writer, Denise Ng, is a certified image consultant in Singapore. Her consultancy Imago Image specializes in personal and corporate image, offering advice on style, the art of dressing, wardrobe, color, grooming, etiquette and protocol and communication skills.
Comments