The Yin and Yang of Style
September 19, 2007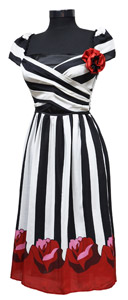 Balance
Balance is crucial to stylish dressing: getting the right mix of colors, the best blend of prints and fabric types, the correct hem lengths and the proper proportions. The perfect outfit is one that hangs together; harmonious in color, form and content. The various elements of the outfit complement each other. This may sound like a highly intuitive art but in fact the secret science of style is easy to grasp. Whatever your style of dressing, you can look well-put together. Here are some tips…
Yin and Yang
Beware of over-doing or under-doing mix and match. "Matchy, matchy" is uninspiring and contrived (a one color outfit, a full set of matching jewelry, or a striped suit, shirt and tie). Conversely, mixing too many colors, styles and designs causes the individual features in an outfit to compete for attention.  The result: garish and over-the-top.
Any style maven will tell you that clothes, shoes, bag, jewelry, watch, spectacles, sunglasses and even hair and make-up must work together.  "Boring"? Not at all. The savvy dresser combines different elements of color, line and design in unique ways that assert individuality, and gets it right by following rules of balance and proportion! Counterbalance colors, textures, prints, fabric weights, lengths and ornamentation. It gives a sense of harmony to an outfit. Call it the "yin" and "yang" principle of style.
Contrast, complement and off-set your clothes, accessories and cosmetics by combining:
Lighter with darker colors
E.g. a black outfit with silver accessories
Strong with neutral colors
E.g. red lipstick with a black dress, a dark brown belt with a beige outfit
Bright colors with neutrals
E.g. a Hawaiian print shirt with white trousers
Visually advancing colors with receding colors
E.g. a yellow T-shirt with dark blue jeans
Textured with smooth fabrics
E.g. a velvet jacket with a silk dress
Matte with light-reflective fabrics or detailing
E.g. a wool crepe dress with a satin sash and beading at the neck-line and cuffs
Transparent with opaque fabrics
E.g. chiffon blouse with a fine wool skirt
Patterned with plain materials
E.g. a striped shirt with a plain suit
Heavy or eye-catching detailing with a plain or less detailed one
E.g. an embroidered top with a plain skirt
An outstanding accessory with less eye-catching pieces
E.g. fun glasses with stud earrings
Multi-color with monotone
E.g. a loud print shirt with plain bermuda shorts
Larger with smaller
E.g. an oversize shirt with skinny jeans
Thicker with thinner
E.g. a heavy cable-knit sweater with wool gabardine trousers
Long with short
E.g. a long jacket with a knee-length skirt
Wide with narrow
E.g. a full skirt with a camisole top
Loose with tight
E.g. a blouson top with a fitted skirt
Follow these "yin and yang" rules of dressing and your outfits will have a sense of congruence. Style is not all about fashion and top brands: what's in, what's out, what's covetable…Well-balanced lines, designs, scale, proportions and color are fundamental to creating a great outfit and the starting point to developing your own personal style!
Learn More » read 'Dress Sense for the Style Challenged'
The writer, Denise Ng, is a certified image consultant in Singapore. Her consultancy Imago Image specializes in personal and corporate image, offering advice on style, the art of dressing, wardrobe, color, grooming, etiquette and protocol and communication skills.
Comments