Dress Sense for the Style Challenged
September 18, 2007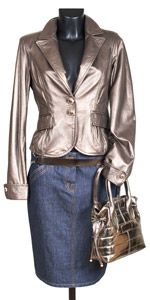 How is it that some people look so well put together, whether they are out on the town or have just thrown on something to run down to the corner shop? Yet others look perennially miss-matched and forgettable, even in designer gear? The answer is in the ability to harmonize an outfit's colors, shapes, fabrics and proportions. Some folk have a natural eye for it, having a so-called "sense of style." This is not the same as "fashion sense" — knowing what is in vogue — but a feel for line and design. Don't be disheartened if you are style-challenged: dress-sense can be learned! Here are some tips to help you get it right…
Match your clothing shape to your body shape:
- Straight and tailored shapes for straight or angular figure types.
- Fitted silhouettes for curvy, rounded figures.
- Shaped outlines if you are in-between straight and curvy.
Match the style of your garment to your over all body line:
- Designs with straight or angular lines in stiffer fabrics for straight, angular figures.
- Styles with rounded lines in soft, fluid fabrics for curvy bodies.
- Straight cuts in softer fabrics or shaped styles in firm fabrics for in-between body types.
Match the internal lines of your clothing and accessories to your facial lines:
- If you have an angular face with sharp or straight features, opt for clothing details (collars, necklines, buttons, darts, fabric prints etc.) and accessories that are angular, linear or straight.
- If you have a soft face shape and curved features, choose curvy clothing details and accessories with rounded lines and detailing.
Complement the lines or design of your clothing with accessories that follow the internal or external shape of it
E.g. a filigree necklace to match a scroll print skirt
Restrict the focal points in your outfit to three
E.g. a strong color, a visually outstanding piece of jewelry, interesting spectacles
Complement the colors in the focal piece of your outfit (The interesting shirt, the outstanding piece of jewelry, the gorgeous shoes…) with:
1. Another garment that has one or more of its colors in it, or
2. Neutral color garments and an accessory that has one or more of its colors in it.
Accessories can:
1. Repeat at least one of the accent colors in your outfit, or
2. Be a neutral metal complementing the undertones of your outfit, or
3. Be in your skin or hair color — a body harmony color.
Combine clothing and accessory colors (including metals) with the same base-tone:
- Warm under-toned colors with other warm under-toned colors
- Cool under-toned colors with other cool under-toned colors
Ensure the colors of your outfit are either clear or opaque, not both:
- Clear, vibrant colors with other clear, vibrant colors
- Dull, muted colors with other dull, muted colors.
If you mix different prints in one outfit, keep the colors in the same tonings.
Wear your hair or skin colors as neutrals.
Wear clothes that fit:
- The correct size for your build
- The proper scale for your height and build (petite, average or over-scale)
- The proper fit for your shape (does not pull, squeeze, gape, bunch, pucker, ride-up, show a panty or bra line or create bulges)
Wear separates with the following hemline proportions for balance:
- ½ top : ½ bottom,
- 1/3 top : 2/3 bottom,
- 2/3 top : 1/3bottom,
- 7/8 top : 1/8 bottom
When an outfit comes together, your clothes, accessories and make-up will complement each other and you. Have dress-sense; follow the simple style and bodyline rules above and whatever your personal fashion direction, you will be dressed with style!
Learn More » read Influence with Color Psychology »
The writer, Denise Ng, is a certified image consultant in Singapore. Her consultancy Imago Image specializes in personal and corporate image, offering advice on style, the art of dressing, wardrobe, color, grooming, etiquette and protocol and communication skills.
Comments