Communicate and Dress For Success: Executive Package
September 17, 2007
Enhance Your Business Image
An effective business persona communicates an individual's qualities and abilities and can reflect a company's corporate image. In the business world efficient communication, good interpersonal skills, professional conduct, proper business etiquette and a high level of personal grooming are important contributors to success. These 'soft' professional skills are key complements to 'hard' technical skills and qualifications, giving a crucial advantage in customer service, negotiations, sales and marketing and interviews.
Develop Professional Skills
IMAGO IMAGE offers a comprehensive professional skills development workshop: Communicate and Dress for Success. This Executive Package provides corporate groups and individuals with vital skills and information to develop a positive business image and a strong personal brand.
The Communicate and Dress for Success workshops develop professional conduct and appearance. Professional image consultants teach how to create an optimal, positive impact with effective communication, protocol adherence, personality construction and professional dress, to enable the achievement of personal and corporate goals. Communicate and Dress for Success assists professionals and executives to build strong personal presentation skills and a professional persona.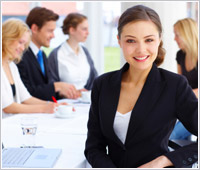 Prepare for Job Interviews and Promotion
If you are intent on career advancement, IMAGO IMAGE Communicate and Dress for Success will help you to climb the corporate ladder. Conduct and appearance are subtle but real factors in successful job promotion. Understand what your body language and words are communicating. Know what your dress conveys about you. IMAGO IMAGE will educate you and teach you how to appear confident in speech and action, how to look sophisticated and act appropriately- so that your appearance will convey that you are able and willing to take on more challenging roles. Communicate and Dress for Success will guide you on how to prepare for a job interview, helping you to make a good first impression with job interview tips including how to dress for interview success and how to look suitable for a more senior position.
Tailored Executive Workshops
The Communicate and Dress for Success: Executive Package contains key information from the IMAGO IMAGE Business Color, Business Style, The Art of Professional Dressing, Business Wardrobe Management, Grooming and Business Etiquette modules. There are two main components to the Communicate and Dress for Success workshops: business communication skills training and dress for success coaching. A series of workshops will be formulated to your requirements. Choose from the topics listed below:
1. Business Communication Skills:
The business communication training develops verbal and non-verbal communication skills to enhance business relationships. It teaches and sensitizes participants in social etiquette, cultural protocol, body-language and conversation skills. It includes global business etiquette training with an emphasis on multi-cultural sensitivity.
Interpersonal relationship building
Multi-cultural awareness
Social etiquette:
- Social protocol
- Business dining
- Introductions and greetings
- Hosting
Global business etiquette and protocol
- Business meeting form
- Business-social manners
- Appropriate business dress
- Electronic communication courtesy
- Cultural courtesy
- Business gifts
Verbal communication skills- including small talk, topics, taboos, manner of speech
Non-verbal communication skills- including body language, appearance
2. Dress For Success
Dress for Success offers advice on optimizing the effect of dress to present a confident, able, professional image that is both appropriate and impressive.
Optimizing personal and corporate image with dress
How to dress for career success
Business style:
- Professional attire
- Grooming a business look
- Wardrobe and apparel management
- Matching and coordinating clothing and accessories
Business color psychology
Job interview attire
Dress codes:
- Business casual and formal dress
- Socially and Culturally appropriate business dress
- Dressing for your industry
Dressing for travel
>>Would you like an IMAGO IMAGE Communicate and Dress for Success: Executive Package workshop? YES>>
Comments